Caledonia Golf & Fish Club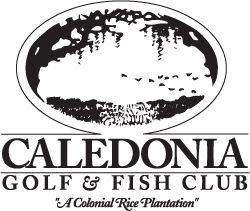 Find your Perfect Tee Time!
A longstanding Hammock Coast Golf Trail favorite in a breathtaking Lowcountry setting, presented with modern features by a true maverick of golf course design, Mike Strantz.
To golfers on South Carolina's Hammock Coast and those who travel from many miles away, Caledonia Golf and Fish Club offers one of the best golf experiences in the Palmetto State. Since opening to the public in January 1994, Caledonia has rapidly gained and maintained a reputation as one of the premier resort courses in America. Golf Magazine currently ranks Caledonia as one of the "Top 100 Courses You Can Play" and Golf Week has it on its list of "Top 100 Resort Courses in America."
Its history can be traced back to a Scotsman, Dr. Robert Nesbit, who named it what the Romans called his homeland: Caledonia. Dr. Nesbit was the husband of Elizabeth Pawley, whose family owned a significant amount of property in the area (Pawleys Island).
In the early 1800s, Caledonia was one of the largest plantations in the area and the impressive avenue of Live Oaks that leads to the clubhouse steps still welcomes all who enter her gates. Although the original plantation house burned in 1931, descendants of the family continued to own and operate Caledonia until 1940. The current owners purchased the property in 1971 to use primarily as a hunting and fishing preserve, still today a gathering spot for their Thursday dinner and socializing.
In 1994, the late, great golf course architect Mike Strantz was commissioned to work his magic on the plantation land. A shaper for Tom Fazio, Caledonia was Mike's first solo project. He applied his artistic talents to the land, making great use of the beautiful oaks, ponds and streams he was dealt, and adding in green complexes that included imposing sand bunkers and surrounding waste areas to create a very challenging – yet very fair – golf course. In adding to the aesthetics of the course, thousands of semiannual flowers bloom every year about Masters time, creating unrivaled beauty.
369 Caledonia Drive, Pawleys Island, SC 29585
A quick look at the scorecard tells you that at 6,526 yards from the back tees, Caledonia is not likely to overwhelm the long hitter. But consider that it's a par 70 course and the rating/slope from the tips is 71.8/138, and you quickly learn this course is no pushover. In fact, the White Tees at 5,710 yards (67.6/127) will show most golfers a challenge and a good time.
Favorite Holes: Ask any newcomer to the course which hole was their favorite, and the majority will choose Number 18. It's a 377-yard par 4 that requires something less than driver off the tee. The goal here is to avoid the water and leave yourself a second shot, over water into an oddly angled green that has two tiers. The top tier tends to funnel back towards the water. Bunkers surround the green and to top things off, you may have a gallery watching your approach and putt from the balcony directly behind the green. It's fun and intimidating at the same time!
Asked the same question, several members and Assistant Professional Mike Foley interesting enough all agreed that the risk/reward par 5, Number 8 was their favorite. At 512 yards from the Blue Tees, a well-struck drive off the tee over the left fairway bunker on the right leaves you with a decision. The rest of the hole plays downhill and a good drive will leave around 225 yards to the green. Again, it's downhill, which makes it play shorter, however there is a pond in front of the green that you must carry. Something else to consider is pin location. If it's front, it is slightly above water level. If it's a back pin, the upper level of the green sits about four feet higher. It's the ultimate risk/reward hole on the course.
Another favorite is Number 10, a 531-yard par 5 with fairway bunkers on either side create a narrow landing area for your drive and the waste bunker dotted with grass islands that make up the right side of the fairway is an imposing obstacle to overcome on your layup. The double-tiered green demands a good long look if you want to score well here.
Even the short par 3, 9th hole (110 yards/Blue Tees) requires a certain amount of distance control and accuracy. Although it's short, it's all carry over sand, and with the green being very shallow, the two back bunkers see a lot of play. Number 7 is a short but interesting hole. It plays 346 yards from the Blue Tees and, with a right-side pin placement, 9 out of 10 players will have to play their approach shot over or under a massive moss-draped oak tree. Find the fairway bunker on the left off the tee and big numbers await.
These are just some of the holes that will leave you with fond memories, however every hole out here has special meaning to somebody. After all, Caledonia realistically has 18 signature holes. No houses infringe on your play; it's just you, nature and that darned little white ball.
After your round, do what many locals and other golfers do and visit the restaurant in the Old South-style clubhouse, which has a tremendous menu and, of course, your favorite post-golf libations. Now it's your turn to sit in a porch rocker and offer encouragement on fellow golfers' approach to the 18th green.
No round at Caledonia is complete without a souvenir of the day's events and the pro shop can hook you up with a hat, shirt or towel from your favorite designer, complete with the Caledonia logo.
Caledonia's mission is to provide each and every golfer with a unique experience that will let them reflect back on their day with fond memories of their Lowcountry experience.