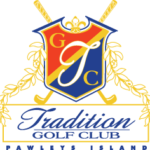 Find your Perfect Tee Time!
Renowned architect Ron Garl brings a parkland-style design to the Hammock Coast noted for a pristine playing surface that showcases spacious, rolling fairways and stellar TifDwarf greens.
For more than 20 years, Tradition Golf Club on the mainland of Pawleys Island has been playing host to both local golfers and those that converge on the area during peak golf seasons. This Ron Garl design is built on the site of a 16th-century rice plantation and opened for play in 1996. Tradition Club has received numerous accolades, including South Carolina Golf Course of the Year in 2001, and has been awarded 4.5-stars by Golf Digest, as well as voted "Top Fairways" for 1998 by Golf for Women. Tradition Club was also nominated as Best New Public Course by Golf Digest in 1996. It is truly one of the most prestigious golf clubs with public access on the Hammock Coast.
Also on property is an impressive practice complex. These are becoming a Ron Garl trademark and one that he has duplicated at several of the other courses he has designed/redesigned around the world. It includes a spacious full-length driving range, a massive chipping green and a putting green with multiple elevation changes so that you can get an idea of the breaks you will encounter during your round. With over 6,800 yards of golf course in front of you at Tradition Club, arrive early and take full advantage of this wonderful practice facility.
Tradition Club is located in the same general area as several other Hammock Coast Golf Trail Courses: Willbrook Plantation, River Club and Litchfield Country Club. Five sets of tees provide playable distances for any level of golfer. The Tournament Tees play 6,875 yards and carry a course rating of 73.2 and a slope of 134; a fitting test for low handicappers. The Men's Tees weigh in at 6,313 (70.8/125) while Ladies have the choice of two distances, the Gold (Senior/Ladies') play 5,728 (73.1/124 for the ladies') or the Red (5,189/70.4/120). There is also a 'junior" set of tees that plays 4,106 with a course rating of 63.5 and a slope of 105.
As you make your way around Tradition Club, you will see how the course communes with nature. Meticulously maintained fairways wind their way through maritime forests and pristine wetlands. Many fairways are lined with live oaks and towering pines, yet there is ample room off the tee to swing away and go for broke.
1027 Willbrook Blvd., Pawleys Island, SC 29585
Ron Garl seems to be a big fan of island greens and Tradition Club does not disappoint. In fact, you'll have two opportunities to test your mettle on Number 7 and Number 15. Number 7 is a par 4, so you can't use a tee on your approach shot. Water is present on about 9 holes but is really only a factor on 4 of those, two of which are the island greens.
The bunkers at Tradition Club are well maintained and filled with fine sugary sand. Most are low-lipped and don't provide any added penalty. A number of holes feature large waste bunkers that are well groomed and add to the overall beauty of the course.
As nice as the course is, Tradition Club is defined by its well-conditioned Bermuda greens. Some have gentle undulations and subtle breaks while others are well-sloped from back to front. All roll fast, true and consistent.
Favorite Holes:
Member's Favorite Holes: A number of members have varying opinions on their favorite hole, so we narrowed it down to two.
Number 5: Par 3, 179 yards (Men's Tees). A challenging par 3 that's got it all – in the way of hazards. From the tee, you need to carry both water and sand; there's more sand right of the green if you push your shot. The green is shallow – only 29 yards deep, so distance control – and a good putting stroke on this well-contoured green – are essential if you want to score well. Walk away with a par and be happy.
Number 7: Par 4, 377 yards (Men's Tees). One of two island greens on the course; only you can't use a tee to reach this one. Long ball hitters will find it best to leave the driver in the bag here; you run out of fairway at about 300 yards from the back tees. You'll need superior distance control on your approach shot into this island green with a large bunker left. A back-right pin can be a challenge with all of the mounding.
Writer's Favorite: Number 10: Par 5, 510 yards (Men's Tees). A long dogleg left that just seems to keep on turning. There's a large waste bunker all the way down the left side of the fairway, so favor the right side off the tee and with your approach shot. The large fairway bunker of the right side can't be seen off the tee and shouldn't come into play. A good drive followed by a well-placed layup will leave a short pitch into a green that slopes severely from back to front and is protected on the left side by the waste bunker. Mounding in the fairway can produce some interesting lies!
Pro's Pick: Number 1: Par 4, 323 yards (Men's Tees). A short, yet trying par 4 to get your round under way. A gentle dogleg right with a large waste bunker on the right side. Find this bunker off the tee and not only will you have to deal with a sand shot of about 100 yards, you'll have to carry it over several large oak trees. Playing down the left side of this well-mounded fairway leaves a cleaner look into the green with only a single bunker on the left side to contend with.
The other island green is worth mentioning, as well. Number 15 is a par 3 that plays 157 yards from the men's tees. Clear the water onto the largest green on the course with trouble on all sides. Another short hole where par is a good score.
Last Word:
To score well at the Tradition Club, you need to have your complete game together. Out here, it's all about shot placement: how far to hit it and where to put it. For the most part, the greens are well protected by sand and/or water. If your approach shots are not dead on, you could be in for a long day. Being able to work the ball – left or right as well as trajectory – is a big plus too. The greens run fast and true, so a consistent putting stroke is a big plus. Most are raised and feature modest undulation. The two island greens add some excitement to an already fun round of golf. You should be able to get around the course in about four hours, which is nice. The course also drains very well so if other courses in the area are closed after a good rain storm, give Tradition Club a call. There's a good chance they are open and playable. And not cart path only!
After your round, stop by the grill room for some traditional clubhouse food and all of your favorite post-round libations. Tradition Club also has one of the best stocked pro shops in the area with all kinds of logoed apparel from all of the top names. Be sure to browse around and take home a memento. The staff is friendly, knowledgeable and always willing to help.