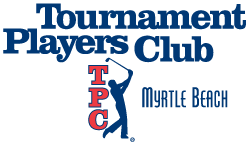 Find your Perfect Tee Time!
Home of the 2000 SENIOR TOUR Championship and the annual Dustin Johnson World Junior Golf Championship, presenting a tour-quality golf experience rated 5 stars by Golf Digest's "Places to Play."
Ever wonder what it is like to play a PGA Tour caliber course? Here's your chance, at TPC Myrtle Beach, the only course in the region to receive a 5-star rating by Golf Digest's "Places to Play."
The Tournament Players Club Myrtle Beach, named for the famed beach destination just miles from South Carolina's Hammock Coast, was designed by Tom Fazio with input from PGA Tour player Lanny Wadkins and opened for play in 1999. The course earned accolades quickly and the next year (2000) hosted the Senior Tour Championship, which was won by Tom Watson. Other PGA greats such as Gary Player, Ray Floyd and Lee Trevino have tried their luck against the complexities of the course.
From the tips, TPC measures 6,950 yards with a rating of 74.1 and a slope of 144. At 6,133 yards (72.5/138), the white tees will provide a formidable adversary for the average golfer without too much embarrassment or frustration. Ladies will find a challenge from the Red Tees at 5,118 (70.3/128). As always, pick the distance that's right for you and have a good time.
Players weave their way through forests of red oak and pine, around Lowcountry marshes and picturesque wetlands on fairways as plush as carpet. Miss the fairway and you're setting yourself up for a long day; the mounding and swales that sit on the periphery make for some tough play. Many fairways are tree lined, with ample landing areas off the tees. But trees aren't all you'll find out here; water comes into play on at least 11 holes, whether it's a lake or wetlands.
1199 TPC Boulevard, Murrells Inlet, SC 29576
The green complexes are worthy of praise all on their own. Most of the greens are elevated with subtle undulations – and fast. It's not uncommon to have a putt with at least two feet of break during your round. Some of the greens are multi-tiered, adding to the necessity of a good putting game. The bunkers are well manicured; often siting several feet below the green.
In addition to a great golf course, TPC Myrtle Beach boasts some pretty impressive practice facilities. There's a full length, targeted driving range, a short game area with sand bunker and a large putting green. No wonder touring professionals such as Dustin Johnson come here to practice in the off-season! I guess the fact that DJ has a golf school here would be a contributing factor, as well!
There's also a fully stocked pro shop so you can stock up on logoed gear and men's and women's locker rooms. Players can shower off/freshen up their round before heading home, and then grab a quick bite in the new Champions Pub. Enjoy a post-round cocktail or choose from numerous draft and craft beer selections. The Ahi Tuna Caesar Salad and Grilled Chicken Sandwich on Ciabatta Bread are recommended suggestions.
Favorite Holes:
Pro's Pick: Number 17, Par 3, 158 yards. (White Tees). To many, using the words TPC and island green in the same sentence means one thing: Sawgrass. But not so fast. Although Number 17 at TPC Myrtle Beach merely has a peninsular green, it's every bit as intimidating as its evil step cousin down the Interstate. And, although there is only water on three sides, the fourth side has a large bunker which is by no means a picnic should you enter it. Complicating matters is the fact that the green slopes towards the water and know this – the wind will be a factor. At 158 yards, it provides a great challenge.
Favorite Par 4: Number 12, 277 yards (White Tees). Given the length of this hole you have to go for the green off the tee. A draw would be the preferred shot off the tee; there's not a whole lot of trouble here unless you find one of the bunkers on the left side. The green is wider than it is long; something to keep in mind should you require an approach shot.
Favorite Par 5: Number 18: Par 5, 496 yards (White Tees). I would name this hole "Decision Time" because, with a good drive – preferably down the left side – you've got a decision to make. Standing on the tee box, you can't help but be in awe as you stare down the fairway at the back of the clubhouse. There's a very picturesque creek that meanders down the right side of the fairway and crosses about 300 yards from the white tees. Once it crosses the fairway, it flows into a large lake that guards the front and left side of the green. Most players will opt to make this a 3-shot hole and lay up right of the water. Hit it to the largest part of the fairway over the creek and you'll leave an approach shot of around 100 yards to a large, well-bunkered green. This is one of the best finishing holes on the Hammock Coast.
Most Challenging Hole: Number 9, Par 4, 445 yards. A monster of a hole that requires your best drive of the day. Playing your tee shot up the left side of the fairway will take the water and trees on the right out of play. You'll be left with a long approach shot that plays uphill to a narrow green with a large, deep bunker on the right. Miss it left of the green and you're looking at a difficult up and down.
Last Word:
TPC Myrtle Beach is one of the top 3 courses in the region, with all kinds of challenges. If you hit the ball high, you should fare well with approach shots to the elevated greens. Spend some extra time on the range and hit every club in the bag; chances are you will on this course. In fact, every shot you hit will be a test. For most, this is as close as some will ever get to playing between the ropes in a professional event.