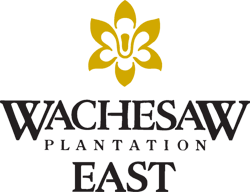 Find your Perfect Tee Time!
A four-time host of the LPGA Tour events, a captivating Clyde Johnston design built on the site of an 18th-century rice plantation and inspired by several of Scotland's legendary parkland courses.
Wachesaw Plantation East is a stunning Clyde Johnston design that offers challenge and reward at every turn. Constructed on the site of an 18th-century plantation, Wachesaw East is inspired by some of Scotland's great parkland courses, with grass berms and bunkers, accented with Live Oaks, Carolina pines and freshwater lakes. Wachesaw East has previously hosted four LPGA Tournaments and was selected as the 2007-08 "Golf Course of the Year" by the MBAGCOA.
Utilizing five distinct sets of tees, the course plays anywhere from 6,933 to 4,995 yards. Regardless of the distance you choose, you'll find that this thought-provoking layout was crafted to reward patience and precision, an approach that sticks with players long after they finish the signature 18th hole. The green of the par-4, 430-yard No. 18 bends slightly around a small pond, leaving most to consider it one of the region's most challenging finishing holes.
911 Riverwood Drive, Highway 17, Murrells Inlet, SC 29576
Wachesaw East offers an expansive practice area and two outstanding dining options. The East Grill and Pub offers a diverse menu that includes sit-down meals or grab-and-go sandwiches. After your round, relax on the outdoor patio with a sandwich and your favorite 19th-hole beverage.